Modern Fireplaces
Heating and Entertaining for over 50 years
We have an extensive range of designs built with advanced engineering technology in our factory. Fireplaces have always been a way of heating and entertaining and now you can take advantage of our experienced designs. We have created a large range of wood burning fireplaces for owners of new or existing homes that will suit any interior style. Our radiant collection of wood burning fireplaces feature a heavy-duty cast iron firebox and our design Collection of wood burning fireplaces are made from double skin 1.5 mm steel and fire bricks. Firebox options include: single sided, double sided, triple sided and corner units for viewing the flames. Inside or outside installation with new or existing cavity plus flue or hot air ducting system. Wood fireplaces will bring a long lasting amount of ambience and enjoyment.
Wood Fireplaces
Choose from a range of design features including: our exclusive vertical + horizontal dual opening door system, removable handles, key locking mechanisms, flues, remote controls, optional hot air ducting system, and a range of surrounding trims, finishes and colours.
WOOD BURNING FIREPLACES
As one of the leading manufacturers of advanced engineered fireplace technology in Europe and Australia, Chazelles Fireplaces offer you a range of home heating solutions with both heating and entertainment for many different home styles. We design modern home fireplaces for burning wooden logs for heating and entertainment including country, classic, contemporary. modern designs. Our entire range of fireplaces with wood can be installed with your own surround design or choose from our fireplace surround designs and finishes.
Wood Burning Fireplaces
GAS POWERED FIREPLACES
Indoor gas powered fireplaces are available with metallic silver or satin black finishes and surrounding design options. Ready to be installed into existing cavities or with a new flue and air ducting system, gas powered fireplaces are modern home heaters with the feature of real flames for viewing. A choice of fuel beds are available including pebbles, crystalight (4 colours) and logs. Each fireplace has either remote operated ignition or manual startup with a button. Perfect for keeping the home warm and an entertaining light experience. Gas fireplaces are also an excellent option for energy savings and come backed with a guarantee to last.
Gas Powered Fireplaces
OUTDOOR FIREPLACES
At Chazelles we've sourced the highest quality outdoor fireplaces to add to our own range. We are the premier designer of outdoor wood burning feature fireplaces. Outdoor fireplaces need to be quick, convenient heating at the touch of a button and this can be achieved with our popular outdoor gas fireplace. The innovative design means no flue or chimney is required and it can be built straight into an existing timber frame or cavity in concrete or masonry. An outdoor fireplace is perfect for heating entertaining areas while providing an ambient lighting and dining experience.
Outdoor Fireplaces
DOUBLE SIDED FIREPLACES
Chazelles unique dual sided fireplace opens its glass heatbox from each side to create the ultimate double sided fireplace feature. The fireplace allows you to extend the enjoyment of a log fire to more than one living room or space by featuring in a wall between two rooms. Designed with installation and flexibility in mind, the DF1200 is ideal for large areas. As the ultimate dual focal point between two rooms, it allows you to create two very different areas within one space while providing radiant warmth for both living rooms or spaces.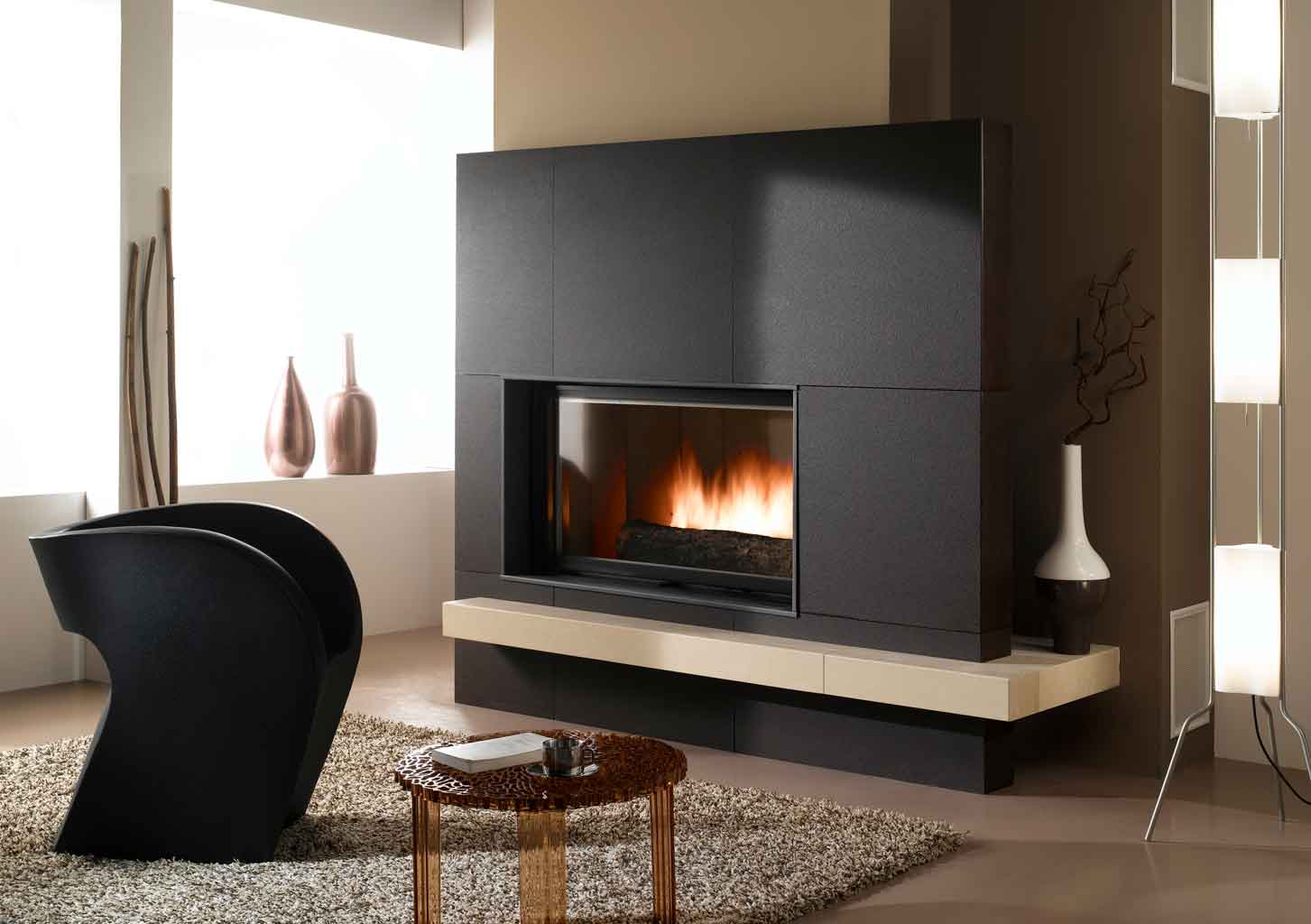 Double Sided Fireplaces
ELECTRIC FIREPLACES
For those who love the look and ambience of a fire, but not the mess and maintenance, an electric fireplace could be the solution for you. Installation is easy, there's no maintenance, and its safe to touch. Ambes range of electric fireplaces are sleek, modern and functional. Each model can be operated by touch panel or remote control and comes with a variety of LED flame display option. With interchangeable fuel beds you can change up the look of your fire to suit your interiors.
Electric Fireplaces